SEARCHING ON MAP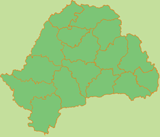 move the mouse on the map

Partnereink:
---

---
Várfalva
Moldoveneşti
or
Várfalva
(
) is a commune in Cluj County, Romania, 12 kms South-West of Turda, in the valley of the Arieş river.
History
The oldest record about the ancient castle at the village is from 1075, calling the place
Castrum Turda
(the old Turda Castle). During the Tatar invasions of Hungary in the 13th Century, most of the area around the castle was ravaged. Later, the land was given to free Székelys who moved here from the Saschiz region and the territory became part of Aranyos Seat.
Etymology
The commune was renamed
Moldoveneşti
in the interwar period, in honour of Ioan Micu Moldovan. The previous name,
Várfalva
/
Varfalău
, means
Village of the Castle
in Hungarian.
Population
Total: 3,644 <br />Hungarian: 2,127 <br />Romanian: 1,474 <br />Roma: 39
Famous natives
Ioan Micu Moldovan - historian and theologian, member of the Romanian Academy
Moldoveneşti
Forrás: Wikipedia Moldoveneşti
Photos in region

Borszék
Upload your photos!